Dr Ian Chait MB ChB MRCP(UK) MRCGP D Occ Med D.Med.Ac LFHom
Dr. Chait is a member of The British Medical Acupuncture Society and has been practising acupuncture for 25 years. He trained at The Royal London Homeopathic Hospital and with the late Dr. Felix Mann, the doyen of medical acupuncture in the UK. Dr. Chait is a western acupuncturist and does not use Traditional Chinese methods such as pulse diagnosis or syndrome diagnosis. He uses evidence based methods as much as possible and keeps up-to-date by attending annual BMAS scientific meetings and other courses. As a medically trained doctor he will ensure that acupuncture is appropriate before advising its use. There is no chance of transmitting any infection as the needles used are the best quality sterile disposable type.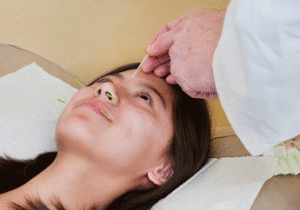 Dr. Chait treats a wide variety of conditions which include musculo-skeletal pain, for instance neck and back pain, sciatica and arthritis – particularly arthritis of the knee which usually responds very well to acupuncture. Other conditions which are well worth treating with acupuncture include "frozen shoulder" and other types of shoulder pain, vomiting in early pregnancy, pain from shingles, headache and migraine. TMJ pain which can cause headache and facial pain may also respond well to acupuncture.
Dr. Chait practiced within the Oncology Clinic at Barnet General Hospital from the mid 1970s until 2007, treating pain, nausea and vomiting on chemotherapy and other symptoms such as hot flushes, in cancer patients.
Hay fever is well worth treating as it responds surprisingly well. It is best to start before the season gets started as it is easier to control then and a few treatments may last the whole season. However it can be tried at any time that symptoms are troublesome.
Rhinitis (Itchy runny nose) may also respond to acupuncture even when an allergic cause has not been identified.
Dr. Chait is recognised as an acupuncture specialist by the main insurers such as BUPA, Axa PPP, and WPA. Most other companies will recognise acupuncture for reimbursement, but you should check with them in advance as policies vary a great deal. We would expect you to pay for each session at the time and then claim back from your insurer yourself.
Dr. Chait is trained in Homeopathy and is a Licentiate of the Faculty of Homeopathy. He may also suggest to you a homeopathic remedy to complement the acupuncture treatment.