We offer a full range of health assessments and medicals to meet individual needs and health concerns.
Top to Toe Executive Screening for Men and Women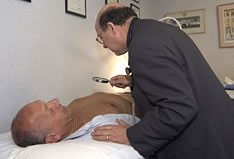 During the examination we discuss your health concerns and through the completion of a health questionnaire and a full physical examination we undertake a thorough assessment of your current and future health risks.
We will then discuss any positive findings with you and offer lifestyle advice where appropriate.
Investigations include:
urinalysis
blood tests, including tests for anaemia, infection, liver, kidney and thyroid function, diabetes screen and cholesterol testing.
hearing and vision tests
resting ECG
lung function tests
Colo-rectal cancer stool test for patients over 45
Prostate Cancer PSA blood test for men over 40
If appropriate, a cervical screening test is included for women
Other special investigations such as mammography, further cardiac evaluation, bone density assessment, aortic ultra-sound etc. may be advised.
The whole screening process takes around 80 minutes and a full written report is sent within 14 days.
Healthy Woman Check
This focuses specifically on female health and will cover the appropriate issues for the individual patient at the different stages of their life.
It includes:
gynaecological examination
breast examination if indicated
cervical screening
blood tests for anaemia
cholesterol profile
Other tests such as HPV, mammography. bone density, pre-conceptual or menopausal blood screening may be recommended at the time.
Prostate Screens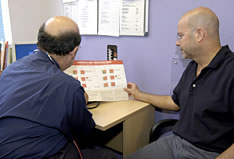 Health Screening – ProstrateWe offer different level screens depending on the individual patient's requirements:
First Level
15 minutes with the Nurse and 15 minutes with one of our GPs. This is suitable for patients who may have specific prostate cancer or other prostate concerns but are unsure whether further investigation is necessary.
Second Level
30 minutes with the Nurse and 30 minutes with one of our GPs. This will include a PSA blood test and also a testosterone blood test for patients with erectile dysfunction or andropause concerns.
Third Level
15 minutes with the Nurse and 30 minutes with Consultant Urologist for a full prostate assessment.
Other Areas of Concern
For men and women who do not wish to have a complete Top-to-Toe Executive or one of the other health assessments detailed above, but have another specific area of concern e.g. heart, respiratory disease, diabetes etc. we recommend an extended 30 minute consultation with one of our doctors.
Also see Harrow Health Care Occupational Health.
Details of our current fees for each of the above Assessments are available from our Receptionists on 0208 861 1221 [select Option zero once you are connected to the Harrow Health Care Centre].